Published by UCLA's Asian American Studies Center Press, AAPI Nexus is a national journal focusing on policies, practices and community research to benefit the nation's burgeoning Asian American and Pacific Islander communities. AAPI Nexus draws from professional schools and applied social science scholars as well as practitioners and public policy advocates with the goal of reinvigorating Asian American Studies' mission of serving communities and generating practical research.
The first issue was released in Fall 2003, and focused on community development. Future issues will deal with Intersections in Education, Mental Health, Workforce issues and more.
SENIOR EDITOR: Paul M. Ong, Professor of School of Public Affairs/Asian American Studies
ASSOCIATE EDITOR: TBD
MANAGING EDITOR: Melany De La Cruz-Viesca
PUBLICATIONS COORDINATOR: Mary Uyematsu Kao
MARKETING MANAGER:  Barbra Ramos
EDITOR ASSISTANT:  TBD
Latest Edition of AAPI Nexus Available Now!
"Special Issue on AAPIs 2040" 14:2 (Fall 2016)
Read the Message from the Editors: Asian American Pacific Islanders 2040: Creating the Future in an Uncertain, Unpredictable World by Paul Ong, Elena Ong, S. Floyd Mori, Alycia Cheng, and Melany De La Cruz-Viesca (Adobe PDF Document)
Browse the Table of Contents (Adobe PDF Document)
Call for Papers:
Deadline for Letter of Intent: Friday, November 3, 2017 *

Deadline for Manuscript Submissions: Wednesday, February 28, 2018 *
(* Note: Deadlines are subject to change)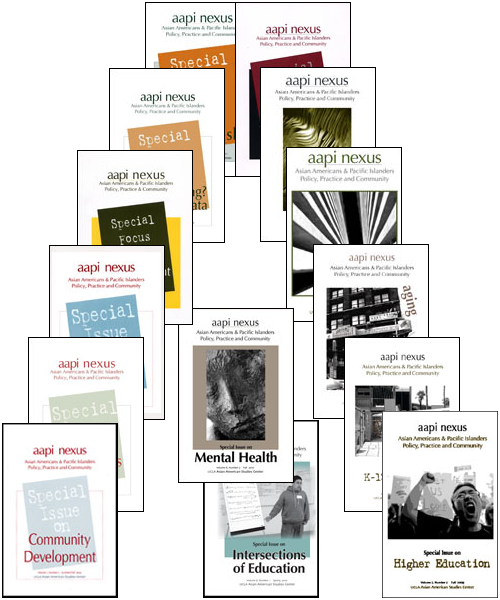 FULL EDITION OF AAPI NEXUS JOURNAL 9:1-2 AVAILABLE:
"Forging the Future: The Role of New Research, Data, & Policies for Asian Americans, Native Hawaiians, & Pacific Islanders" 9:1-2 (2011)
The "Forging the Future" special double issue is arguably the most comprehensive publication to date on Asian Americans, Native Hawaiians, and Pacific Islanders (AANHPI), demographic data trends, and federal policy – including policy briefs on Civil Rights, Economic Development, Education, Health, and Native Hawaiians and Pacific Islanders by over 50 leading AANHPI scholars, applied-researchers, and community leaders from all over the nation. Answering President Barack Obama's call to increase participation by Asian Americans and Pacific Islanders (AAPI) in federal programs, UCLA's Asian American Studies Center is spotlighting ways to improve education, healthcare and housing for traditionally under-represented groups, like Native Hawaiians and Hmong Americans, with this pioneering new AAPI Nexus journal special issue. The release of this journal coincides with the second anniversary of the White House Initiative on Asian Americans and Pacific Islanders (WHIAAPI), established on October 14, 2009, when President Barack Obama signed Executive Order 13515: "Increasing the Participation of Asian Americans and Pacific Islanders in Federal Programs." The special issue includes activities of the White House Initiative on Asian Americans and Pacific Islanders from 2009-2011, and research originally presented at a WHIAAPI convening on research and data collection in December 2010.
Forging the Future — full edition of this journal is available here (Adobe PDF Document)
This publication was made possible through the generous support and sponsorship by Asian and Pacific Islander American Scholarship Fund (APIASF), Association of Asian Pacific Community Health Organizations (AAPCHO), National Coalition for Asian Pacific American Community Development (National CAPACD), CUNY Asian American/Asian Research Institute, UCLA Asian American Studies Center, National Asian Pacific American Women's Forum (NAPAWF), Okura Mental Health Leadership Foundation, Asian Pacific Partners for Empowerment, Advocacy and Leadership (APPEAL), University of California, Asian American Pacific Islander Policy Multi-Campus Research Program (UC AAPI Policy MRP), Ford Foundation Building Economic Security Over a Lifetime Initiative, University of Massachusetts, Boston, Institute for Asian American Studies, National Council of Asian Pacific Americans (NCAPA), Ford Kuramoto and Lois M. Takahashi.